Afuera Coffee Co. was started by and for people who not only love exploring the outdoors, but care deeply about restoring and preserving our environments and habitats so everyone can enjoy them, both today and tomorrow. To help work towards this, we donate 5% of all sales to charities and organizations dedicated to keeping our afuera, meaning "outside" in Spanish, as pristine as can be. 
Everything we do at Afuera has sustainability as the main focus: sourcing beans from certified Rainforest Alliance farms, using compostable coffee bags/mailers/stickers and of course, donating a portion of our sales, not just our profits, to protecting Mother Nature. It is our dream that through many small decisions, such as choosing and brewing your go-to coffee, we can make a substantial difference in the health and cleanliness of our world.
We want people to feel good about putting Afuera in their mug and heading out into nature, knowing that they contributed to something important that day. Hence our motto, Do Good And Go Afuera!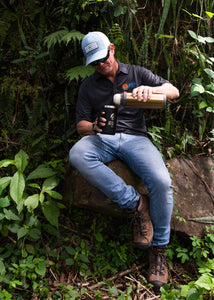 Matthew Igoe, Founder
Starting when he was just a young pup in Connecticut, Matt has spent his free time exploring the outdoors and out on the water. As he got older, he dreamed of starting a business centered around environnmental stewardship to show his appreciation and gratitude for his experiences.
After meeting his wife Beatriz, they moved to her homeland of El Salvador to better support her human rights activism, which is where he fell in love with the local coffee farms and began to formulate the idea of Afuera.
In the last year, everything finally came together. Built off of his passion for the outdoors and, of course, a good cup, Afuera Coffee Co. came to life. Matt looks forward to all the good that can be accomplished together, and to a healthier planet not only for his son Finn, but for Finn's children and their children, too.